Shows 2023
So pleased to be participating in this show!  For more information see Kingsway Lambton Charity Art Show 2023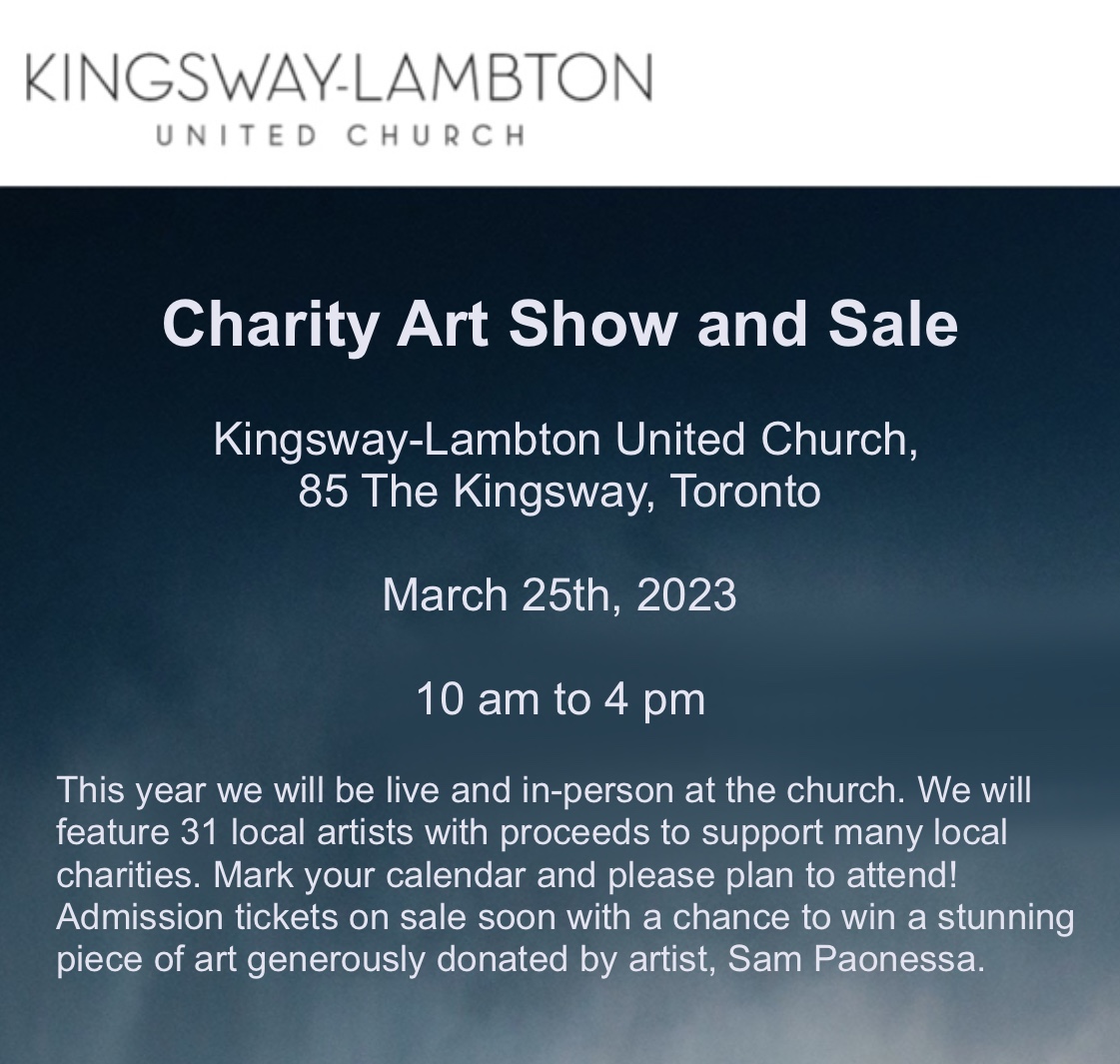 Previous Shows and Events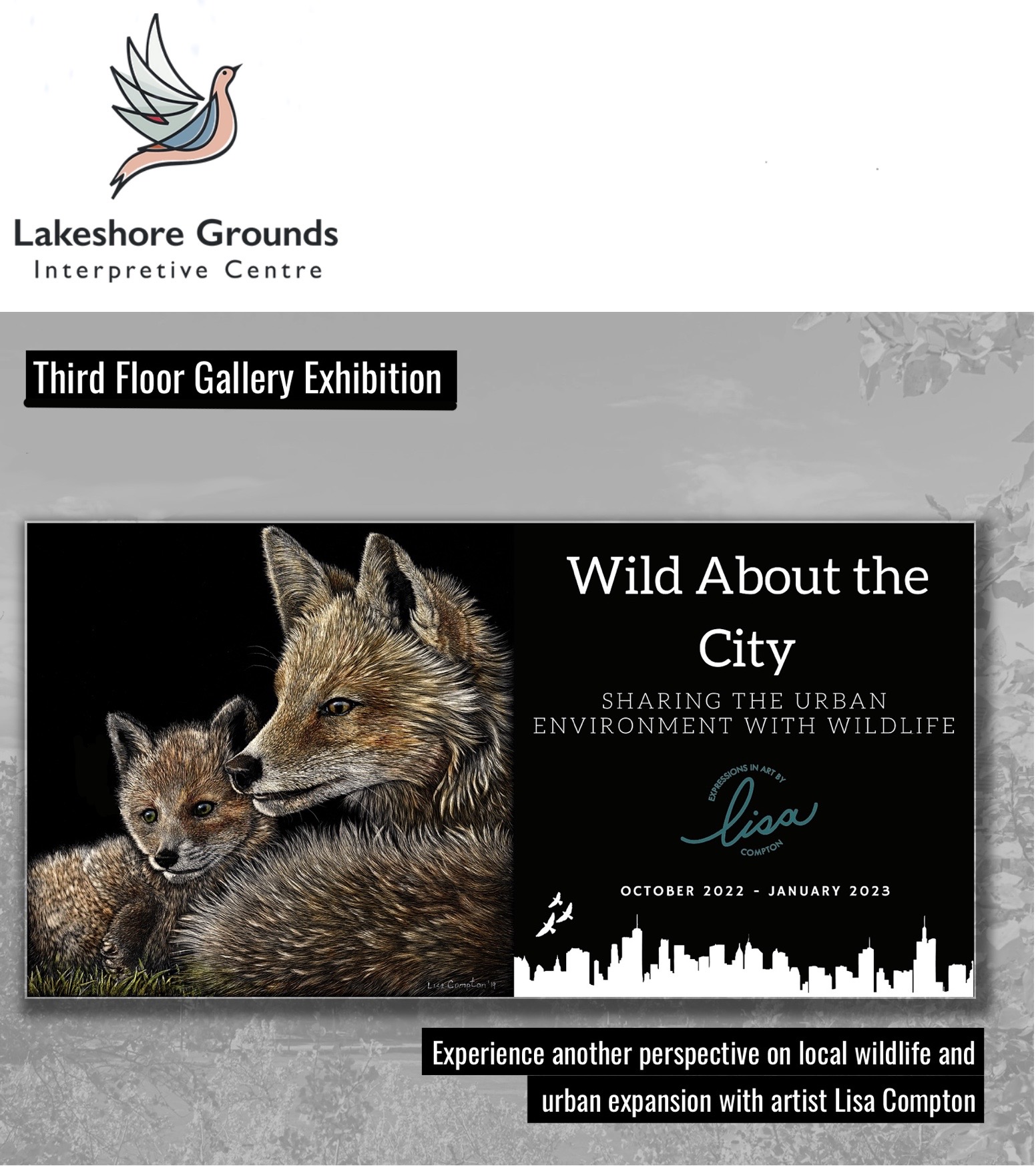 Lakeshore Grounds Interpretive Centre – 2 Colonel Sam Smith Drive, Etobicoke, Ontario
October 11 to January 20, 2023
Reception date: November 9 (Wednesday), 6 to 8 p.m.
I am thrilled to have been chosen as one of the artists for the third floor gallery at the beautiful, modern facility located on the grounds of Humber College!
Learn more about Lakeshore Grounds Interpretive Centre, click here.
February 10 – December, 2020
-Arts on the Credit Arts Drive. September 26, 2020
-Neilson Park Creative Center, Park View Gallery – Etobicoke Art Group Black and White and In Between Show.  Chair.  The artists were challenged to create works limited to black and white and shades of gray only.  February 10 to March 1, 2020.
-Neilson Park Creative Centre – Handmade Art and Fine Craft Sale – November 23, 2019
-Neilson Park Creative Centre, Art Space Connect Gallery – Highlights 2019,  A members' choice exhibition – October 22 to November 10, 2019
-Montgomery's Inn Museum, Etobicoke, Ontario
June 1st to August 30, 2019 – Solo show featuring Wildlife in the City displayed in the Tea Room.
-Artworld Fine Art – Toronto West Arts Collaborative 2019 Juried Exhibition – August 6 to Sept. 2, 2019.
-Neilson Park Creative Centre – Handmade Art and Fine Craft Sale – April 6, 2019
-Artworld Fine Art – Toronto West Arts Collaborative 2018 Juried Exhibition – August 23 to Sept. 30, 2018
-Neilson Park Creative Centre Juried Show "Impact" – July 17 to August 11, 2018
-Etobicoke Civic Centre – Etobicoke Art Group Annual Juried Exhibition – May 2018
-Neilson Park Creative Centre – Impact Juried Show – August 2017
-Studio Open House – August 2017
-Neilson Park Creative Centre – December 2016
Awards
-Artworld Fine Art – Toronto West Arts Collaborative 2018 Juried Exhibition – Peoples' Choice Award for "Meerkats" scratchboard piece – will be on display until the end of September 2018
Memberships
-International Society of Scratchboard Artists – Active member
-Neilson Park Creative Centre
-Etobicoke Art Group
-Toronto West Arts Collaborative (Board member)
-Pastel Artists of Canada
Education
Numerous art seminars, workshops, conferences including:

Lori Dunn scratchboard KAN 2018
Robert Bateman AFC 2014
Terry Isaac 2012, 2013
David Kitler AFC 2015
Kim Martin 2017 Pastel Animal Portraits
Derek Wicks 2005, 2012, 2013, 2015, 2016 Wildlife Acrylic
ICAN Pastel Conferences 2016 and 2018
Studied decorative painting with various instructors 2003 to 2007

Humber College Institute of Technology & Advanced Learning

Landscape Design/Horticultural Technologist Honours Diploma

Diplomas and Certificates earned at various educational facilities include executive administration, business computer software, landscape design and graphic design software